WMB Classic Invites went out via email on 9/10.  Please confirm your spot ASAP.
If you finished in the top 30% of your division, you are invited to fish the WMB Classic free of charge.  If you did not finish in the top 30% but fished the at least the minimum events required, you are invited to fish the WMB Classic for a fee of $100.  The fee will be paid to WMB by cash or check at the time you register (Friday evening or Saturday morning).
Free entries will not be passed down to other teams.  Each team is required to make plans based on how they finished at the end of the regular season.
Substitutes are allowed for the WMB Classic.  You can create a new team with another angler THAT QUALIFIED on any other team for the WMB Classic.  If your partner does not qualify for the WMB Classic, please do not call us to ask if they can fish with you (this happens a lot).
If you qualified for the WMB Classic through more than one division, you should sign up your team under the best take off position.Big Bass Payouts:Incuded in the entry is a cumulative Big Bass payout for 1st and 2nd big bass of the entire event. We will have a cash sidepot on day 1 and day 2 at 20$ per boat for big bass of the day which will payout 60/40 of the pot each day. This is an optional side pot.
Tournament Details
      

Launch Location: William Gregory Boat Launch https://goo.gl/maps/ifPABxwD2HFYArrU8

      

Dates: September 25 and 26

      

Tournament Hours: 7:30 AM – 4:00 PM (Local sunrise approx. 7:30AM)

      

Flights: TBD
Banquet Details - Sponsored by The Outdoorsmen Proshop
WMB will host a banquet open to all participants the evening of Friday Sept 24th 5-8pm. Dinner and drinks will be provided by WMB & The Outdoorsmen Proshop from The Soo Brewing Company. If you are staying in the area, please stop in for a drink or a meal throughout the week and let them know we appreciate them going out their way to work with us! Stop into The Outdoorsmen Proshop in Jenison to stock up for the classic and make sure to tell them thank you for graciously helping us with this event!
Please RSVP with the number of guests if you plan to attend so we can get an accurate head count and enough food for everyone. The RSVP is part of the tournament registration process in the invite emails.
The banquet will be outdoors at the large tent at the Boat Launch park area. We will do early registration for Saturday morning as well. You do not need to RSVP if you don't plan on eating with us. Division champs are also encouraged to join us to receive  your trophies.
Practice Details
There is no pre-tournament off limits period and no official practice day(s)
Tournament Off Limits & Boundaries
Canadian waters are in play. The current Canadian rules expressly state US anglers may enter Canada by water to fish with no stipulations as long as you are not going on shore - details at the bottom of this page.
Southern Boundary: A line from the southern edge of Bennette Pointe east to the southern edge of Crab Island.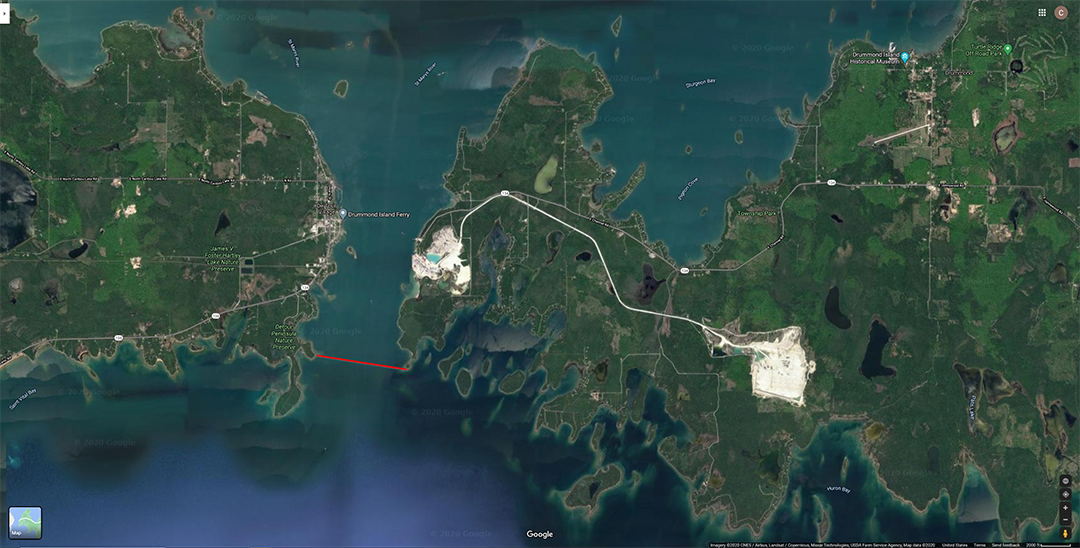 Eastern Boundary: A line from the tip of Chippewa Point on Drummond Island north to Bruces Mines in Canada.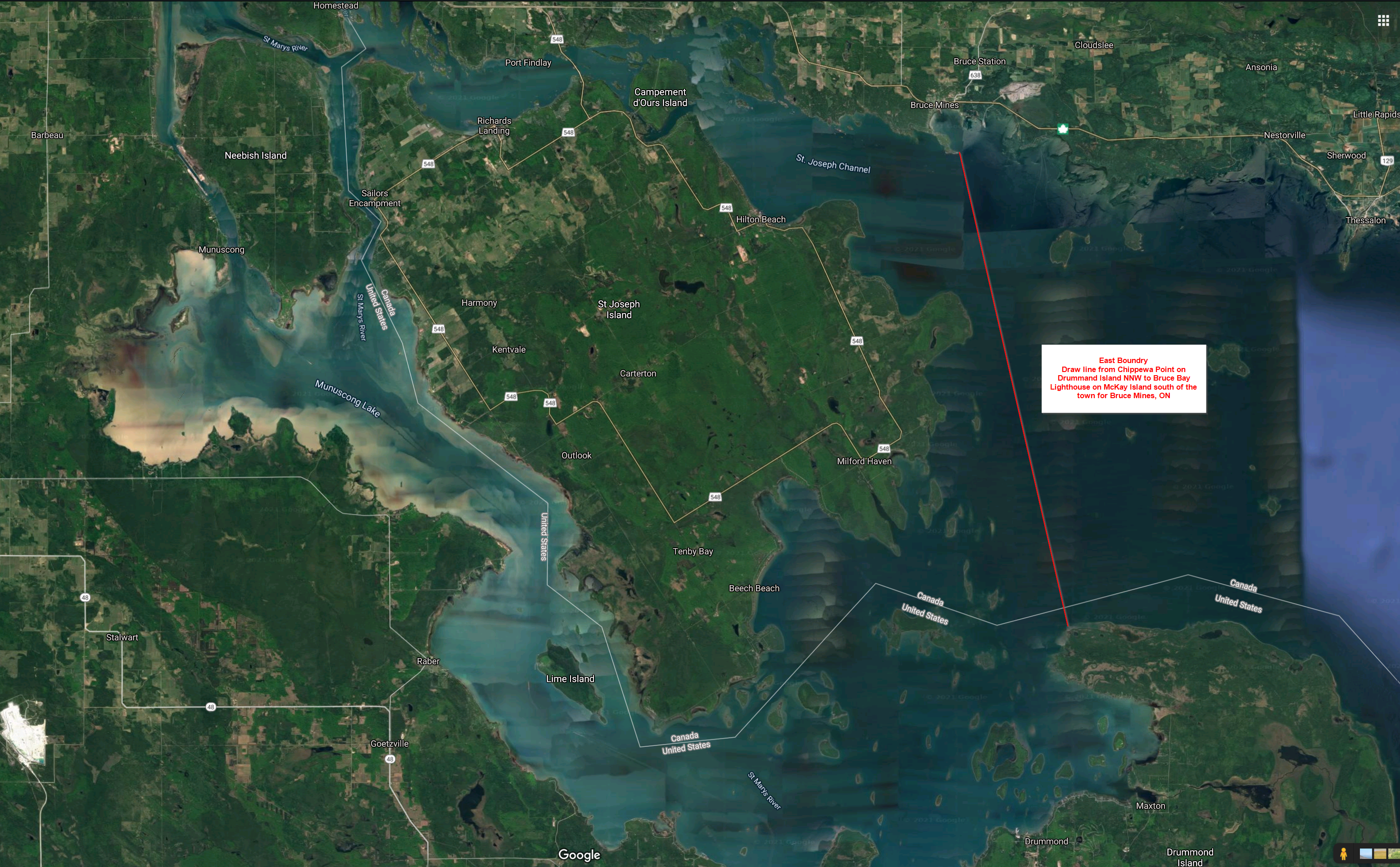 Western Boundary: A line from the western pier of the Edison Sault Power Canal NE to the Canadian shoreline.
Canada Info: https://cbsa-asfc.gc.ca/travel-voyage/pb-pp-eng.html
** You will need to purchase a Canadian Fishing License (Ontario) to fish Canadian waters.**Excerpt:
Foreign national boaters (non-residents of Canada) who do not qualify as fully vaccinated
Travel to Canada for discretionary (non-essential) purposes is still prohibited for foreign nationals who do not qualify as fully vaccinated.
Discretionary (non-essential) travel that includes landing on Canadian soil, anchoring, mooring or coming along side another boat in Canadian waters includes:
sightseeing
boat races
fishing/hunting trips
visits to cottages/vacation homes across the border
If you enter Canadian waters for leisure and touring, including pleasure fishing, sightseeing and other discretionary purposes (known as loop movements), you are not required to report to the CBSA as long as the boat does not land on Canadian soil, anchor, moor or come alongside another boat in Canadian waters.